Welcome to the Pigeon Forge vacation getaway of your dreams!
We are Smoky Mountain Dream Vacation and your hopes for a relaxing, luxury getaway in
Pigeon Forge, Gatlinburg and Sevierville has been our business for many years.
Our blessed experiences with many different families and groups over our history has given us quite an awesome perspective
into how we can serve current, repeat and future guests that we hope to share with you!
Fall Special!
---
Book 4 Nights Stay in October for 3 nights and receive 4th night FREE!
* All Specials excludes pool cabins. If calling must be mentioned at the time of booking. Not valid with any other discount. For any questions please call the office.
Book between 01/01/2020 and 10/27/2020
Arrive between 10/01/2020 and 10/27/2020
We stayed at Caught ya peekin! It is in the perfect location! pretty close to the main strip in Pigeon Forge and not too far from Gatlinburg. The cabin was perfect for our family of four. Very clean! We also enjoyed watching the fireflies around the cabin at night!

My family and I stayed at The Majestic Springs Lodge and it was EVERYTHING! The theatre room was phenomenal, couldn't keep the kids out of the pools, and they loved the spacious jacuzzi tubs. I highly recommend this cabin during your stay. Thanks so much!

My husband and I booked a lovely cabin to stay in with our friends. It was located at Grandview Resort, and it was perfect for the four of us! I loved the round shape of the cabin and how the deck wrapped around it. We had some beautiful views from every angle, even while we lounged in the hot tub! It was located very conveniently to a lot of great places while also being just far enough from all the hustle and bustle of the main strip. We are already talking about a return trip later this summer! Thank you for the wonderful accommodations! I definitely recommend booking with Smoky Mountain Dream Vacations!

We stayed at 5 O'Clock Somewhere cabin that sleeps 12 on June 20th to June 27th 2020. We had a great time. The cabin was spotless from top to bottom. It was in the perfect location right between Gatlinburg and Pigeon Forge. The pool was large, clean and heated. The kids had a wonderful time. We even had a bear sighting that came up the side of the cabin and walked down the road. It came back to visit us the next day. The cabin was beautifully decorated. Pictures do not do it justice. We would highly recommend this cabin and can't wait to visit it again! Smoky Mountain Dream Vacations was attentive to our questions and made check in a smooth process.

We had a wonderful stay in the cabin 5 o'clock somewhere June 30-July 3 . It was very peaceful and relaxing with an awesome pool in its own pool house with restroom to change in and hot tub right outside on a huge deck with picnic table and tons of chairs to sit and enjoy a good time . There are also two separate grills charcoal and gas in two different areas of cabin porch and decks in which there are 4/5 decks each with chairs to sit outside from different floors of cabins on each level to be able to sit and relax and enjoy the day . This cabin was so clean and so beautifully decorated . It is a very spacious cabin with large dining table and had beautiful fireplaces and bedrooms are spacious and awesome rustic log furniture. The game room had a pool table , air hockey and video game which we enjoyed going down every evening and playing. We loved that we where only a few minutes away from Pigeon Forge and Gatlinburg,very easy to get to all restaurants and all the activities in town . This is the second pool cabin from Smoky Mountain Dream Vacations we have stayed in the other was Majestic Springs Lodge and it was just as beautiful and clean as this one . This company has been so helpful and nice to rent from , made the process so easy with no hassle and responds to any messages and emails we sent in a timely manner . Thank you for making it possible to make lifelong memories with my family . Sending a big Thank you to Monica for being so kind and sweet to me during this experience.

Nice cabin, and great views of the mountains! Thank you Shannon and Monica for your wonderful service! We had a great family vacation!

We enjoyed our stay in one of your cabins these last couple weeks! Thank you! We'll be back soon, Good Lord willin' and the creek don't rise! 😊 Anyone wanting a cabin in the Smokies, contact Monica Avery! She's the best! They (Smoky Mountain Dream Vacations) asked us to post a few pics of our time spent in the ⛰'s. So, here are a few of our memories we captured: The mountains are calling, and I must go....

My family absolutely loved it. Special thanks to Monica she was very helpful. Nice view of the Mountains recommended to family and friends. We loved the place and the private pool. Also. We're looking to come back next year with our family and friends. Thanks again

We stayed at Forest Fling. It was great! It was a pretty short notice vacation so only 2 of us stayed in the 6 person room. It was easy to get to but about 5min or so up the mountain. If you're not comfortable driving a winding road, through a forest, up a mountain, then I recommend getting there during the day. Also, in the dark, the cabin names can be a little difficult to see but the cabins all have addresses and outdoor lights so it wasn't too much to worry about. The location is perfect for the woodsy feeling without actually camping. The cabin was well stocked with coffeemaker, pots, pans, and all utensils. I really appreciated there were even some spices there because I accidentally forgot mine. Everything was clean and well organized. It was so cozy; the perfect ratio of carpet and wood and just enough space without feeling too empty even with only 2 people in a place that sleeps 6. The outdoor hot tub was perfect after a full day in town and the pool table was so nice to fill a little extra time in the day. The website was right when it mentions they only give starter items so 2 rolls of toilet paper, towels for 4, tiny dish soap, etc. If more than 4 people or staying more than a few days for sure bring more supplies. The location was perfectly set between Gatlinburg and Pigeon Forge so we could easily enjoy both. All entry is keyless and check in/check out are easily done by text with only quick paperwork done at the office. We had no problems and enjoyed a wonderful stay.

So nice! More than what I expected. Beautiful views. Close to town but far enough away to have privacy. We had 9 people stay at the 5 o'clock somewhere cabin for a weekend. More than enough space for everyone . Loved it. We will definitely stay again.

Had a really great time. A lot of things to do . Indoor heated pool and jacuzzi were great. It was starting to get cold but we could still enjoy the water activities, Which was nice. The location to 5 o'clock somewhere is really convenient you are close to a lot of activities in town.
Swipe Left Or Right On Your Phone To Browse Testimonials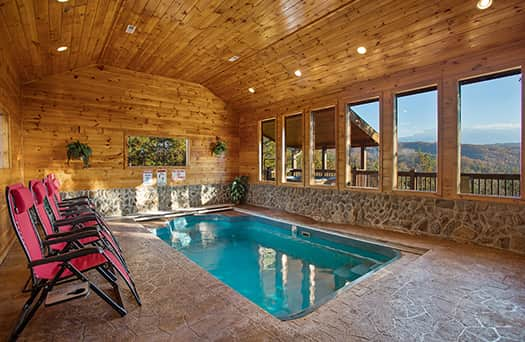 Our cabin rental program has a size that meets a balance our guests enjoy – big enough to give guests the feeling of a high profile getaway while also small enough for a very "down-home" and local experience. If you've ever stayed at a very expensive hotel and a local person's Airbnb and wanted the best of both worlds in one experience, you've found it with Smoky Mountain Dream Vacation! We have cabins that range from small, cozy, romantic 1-bedroom houses to 5-bedroom buildings aimed more for larger families and group getaways.
Each house on our rental program is brimming with amenities that Smoky Mountain visitors have come to expect from a high quality cabin rental company. You can expect amenity combinations that can include cable or satellite TV, multiple HDTVs, air hockey tables, pool tables, multiple decks overlooking landscapes or other ambiences in our area, rocking furniture for the decks, outdoor hot tubs, fireplaces, full size and fully equipped kitchens, indoor jacuzzi tubs, arcade machines and more that you can see listed with each cabin page we have on this website. In addition, we provide high speed internet, free long distance calls, and comfortable accommodation for up to 20 people at our largest house(s).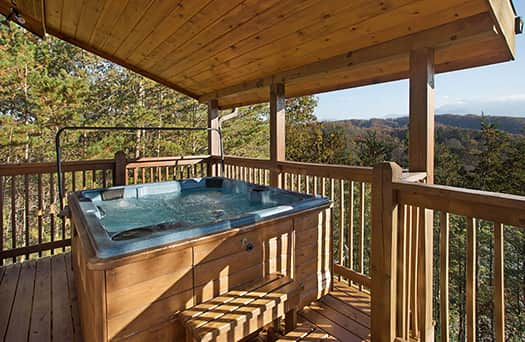 And yes, we even have pet-friendly accommodations as well!
That's only the tip of the proverbial iceberg when it comes to talking about what we have to offer upcoming Smoky Mountain vacations in any season you might want to vacation in. See our cabins listed in the navigation bar above as well as our cabin specials and some local attractions information. We hope we get the opportunity to serve you on your next trip to the Smokies!